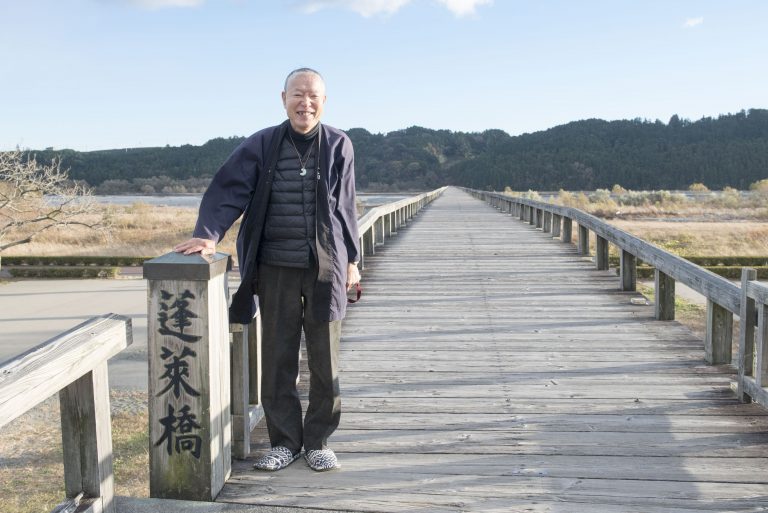 Learning from the Past: Crossing the Oi River (part II)
Sightseeing

Shopping

Cuisine

Shimada Area

Horai Bridge

History

Green Tea
Horai Bridge over the Oi River was registered in The Guinness Book of Records and is a must-see scenic setting.
You can enjoy the pleasure of green tea from Shimada at a modern tea shop in the vicinity of the bridge, and a sake brewery still in business today in the urban area.
Set out on a trip to fully experience the old and new in Shimada.
Welcome to the longest wooden walking bridge in the world that was registered in The Guinness Book of Records!
Horai Bridge is a wooden bridge over the Oi River. Crossing the river was the most difficult part of traveling on the Tokaido Road, and it was even mentioned in a poem. "The Oi River is hard to get over in any way." It has a total length of 897.4 meters and was registered as the longest wooden walking bridge in the world in The Guinness Book of Records.
Horai Bridge was completed in 1879. The former vassals of the last shogun, Yoshinobu Tokugawa sought to cultivate Makinohara Plateau at the command of Katsu Kaishu. Amid this, the bridge began as a rural pass over the river that linked Shimada on the left bank of the Oi River and Makinohara on the opposite bank. Even today, its appearance speaks of days past, and the aura of the attractive wooden footbridge differs in each season.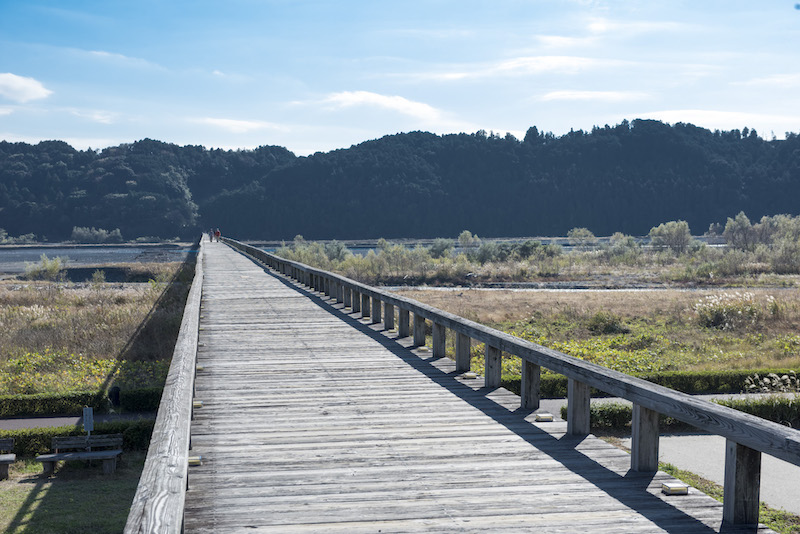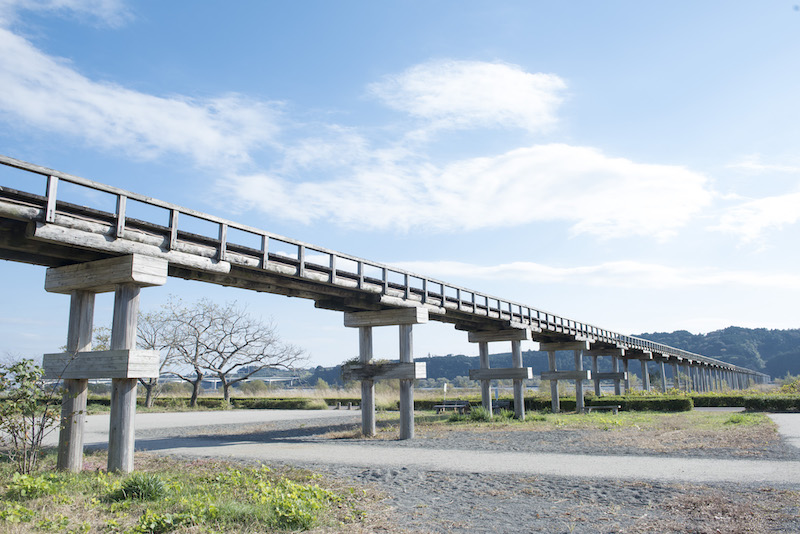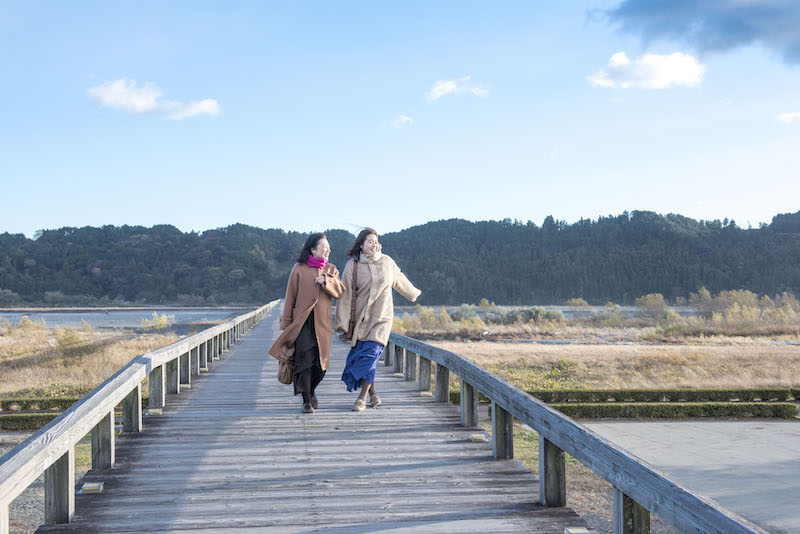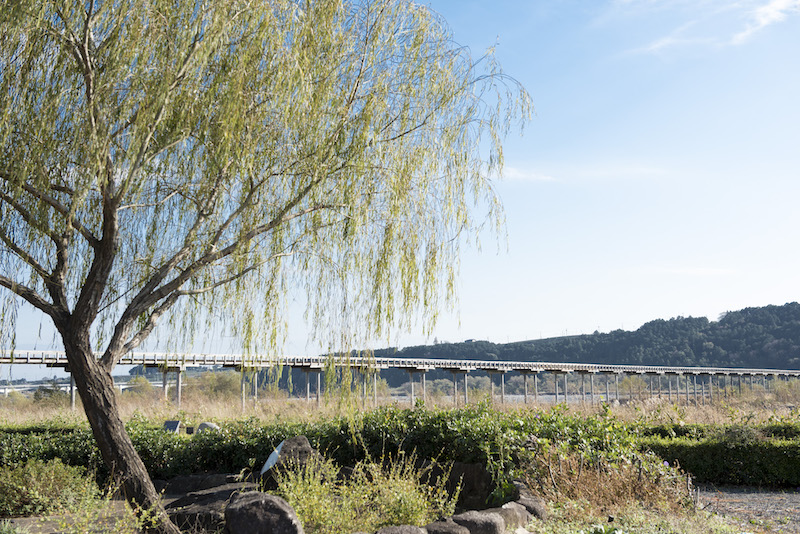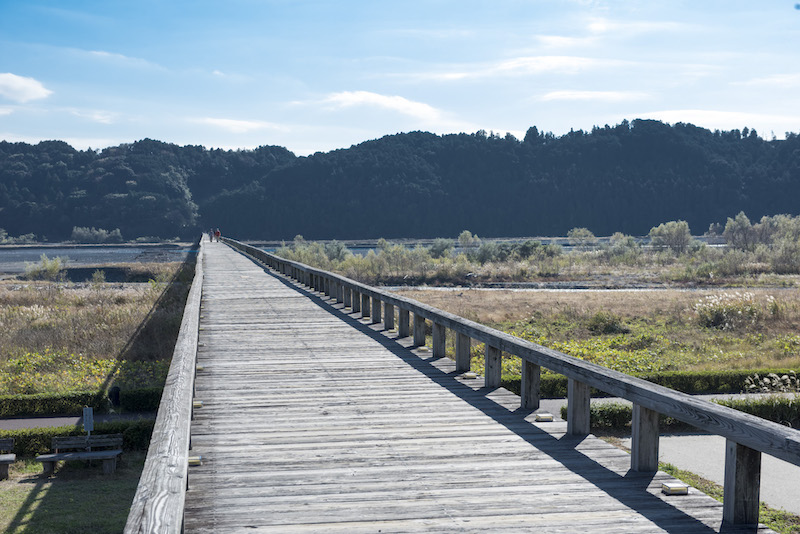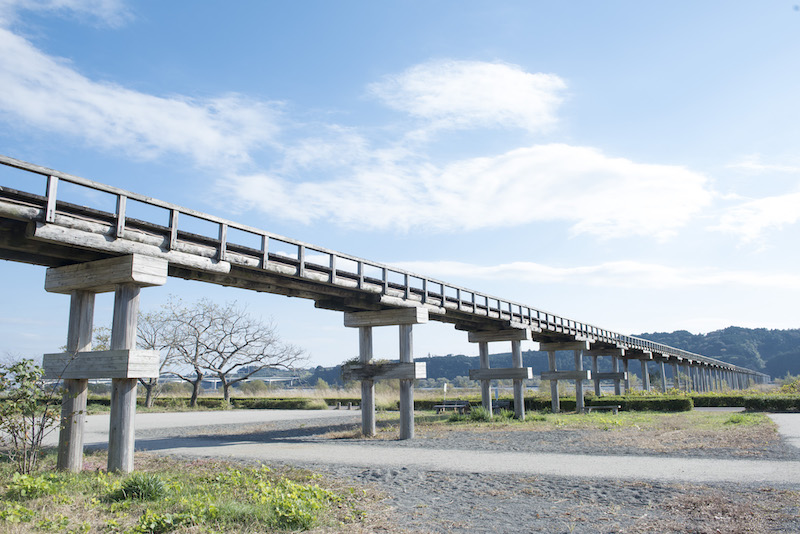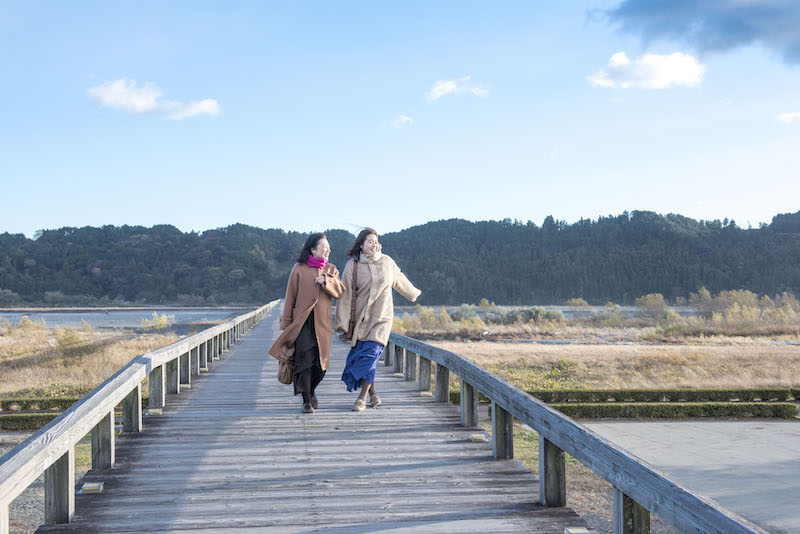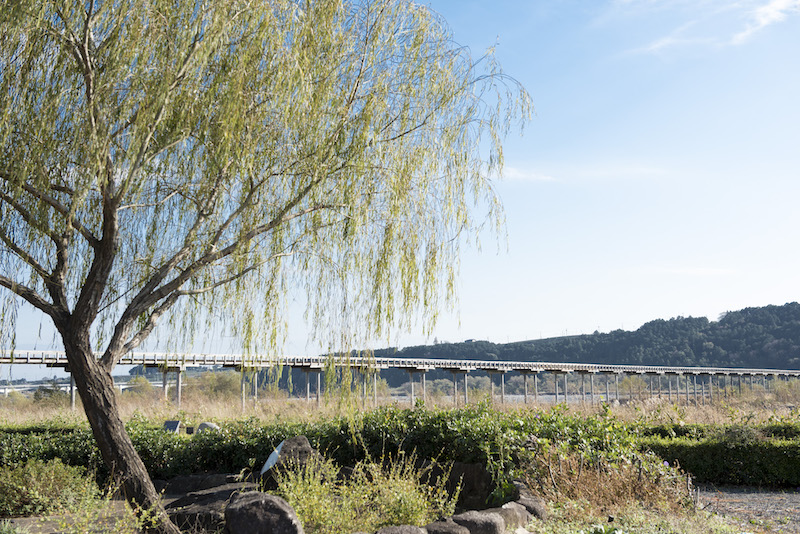 There is a bridge keeper's hut at the foot of the bridge. The bridge is notable because, unusually, pedestrians paid the bridge keeper a toll to cross. That gave rise to the bridge's other name Chintori Bridge (referring to toll collection). On sunny days when the air is clean, you can view the majestic Mt. Fuji while crossing the bridge. Don't miss out on this amazing chance to look out on a World Heritage Site from a bridge registered in The Guinness Book of Records.
Horai Bridge is also popular as a spiritual hot spot because it is a long wooden bridge, which translates to a bridge of long life. In addition, the bridge is 897.4 meters, which in Japanese can be read as "yakunashi," meaning free from misfortune. There is a walkway on the bridge's opposite shore, and a different view of Horai Bridge can be seen when looking down from the observation deck.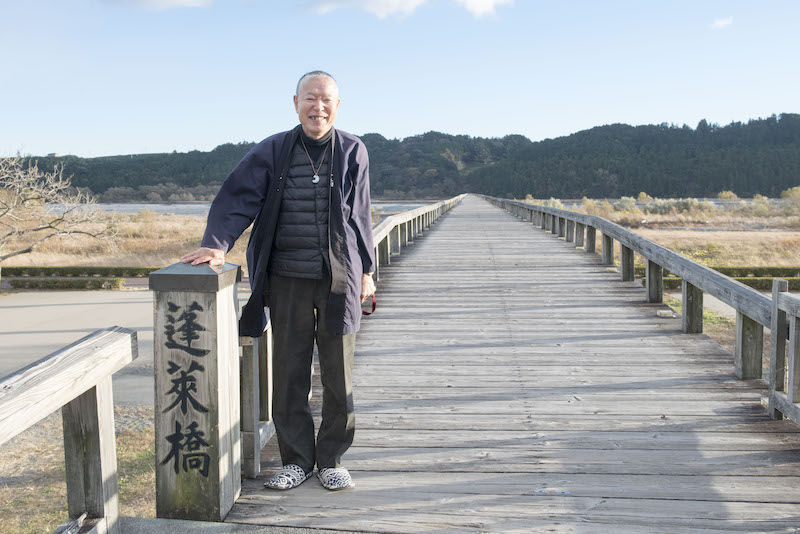 Horai Bridge
Telephone number

Bridge Status & Fee: 090-7866-1056 (Horai Bridge bridge keeper's hut)
Nearby Sightseeing: 0547-46-2844 (Shimada City Tourist Association)
Hours open to pedestrians

All day (may be closed to crossing due to bad weather or construction)
Closed

Open year round
Parking

Parking Lot 1 (approx. 100 meters upstream from bridge): 26 spaces for passenger vehicles (including 2 disabled spaces), 11 spaces for tour buses
Parking Lot 2 (riverbed): 50 spaces for passenger vehicles (including 2 disabled spaces)
*Free admission
Bridge crossing fee

Pedestrians/Adults (jr. high school students and older): 100 yen; Elementary School Students: 10 yen 
Pre-schoolers: Free; Persons with Physical Disability Certificate: Free
Bicycles allowed (included in above fees) *Motorcycles prohibited
A place to leisurely enjoy tea while gazing at Horai Bridge.
Horaibashi 897.4 (Yakunashi) Chaya is a place to rest located near Horai Bridge, the longest wooden pedestrian bridge in the world. The shop's name comes from the bridge's length, 897.4 meters. Those numbers can be read in Japanese as "yakunashi" (free from misfortune), so it also garners attention as a lucky spot. Inside is an array of items particular to Shimada, including sweets certified as Superior Shimada products, miscellaneous goods, and tea that received the top prize in the Shimada fair. They also make perfect souvenirs.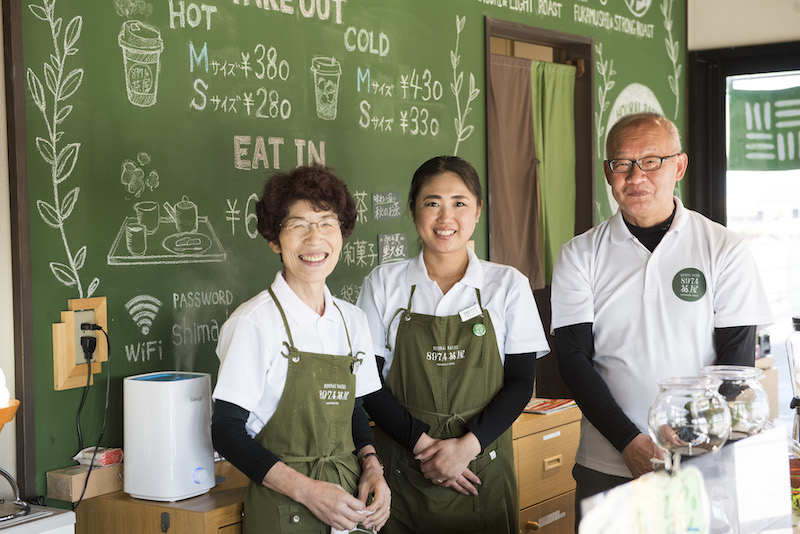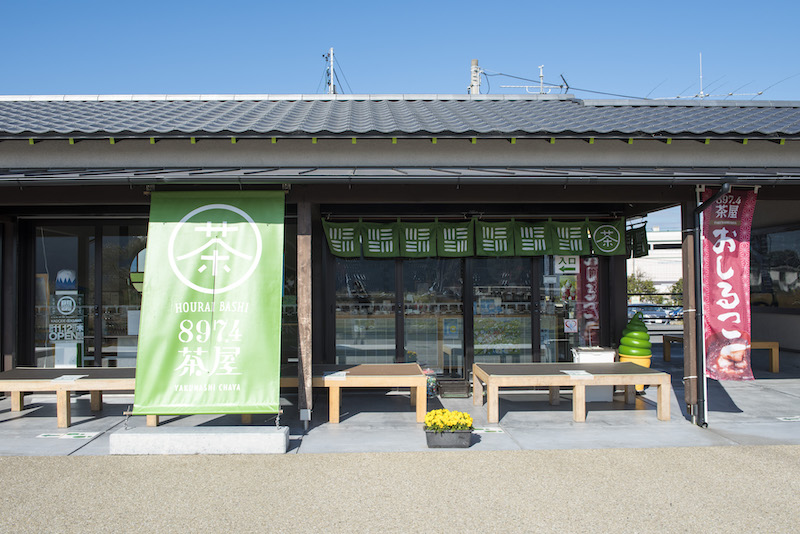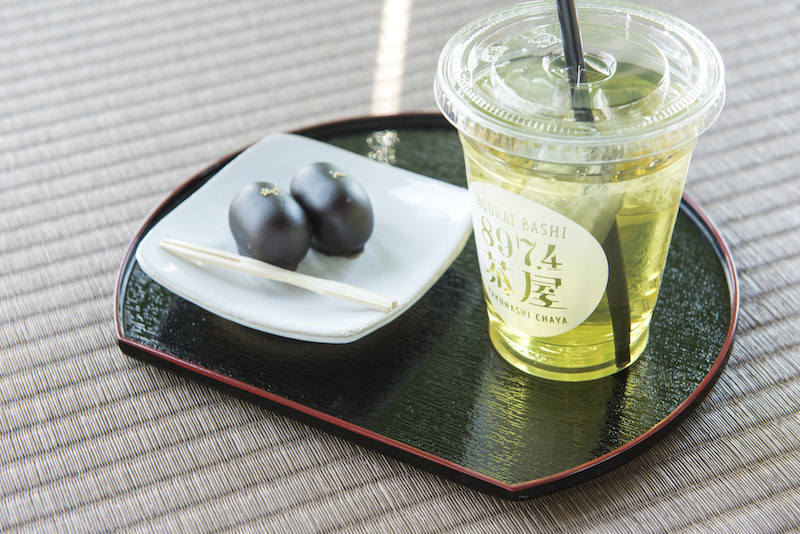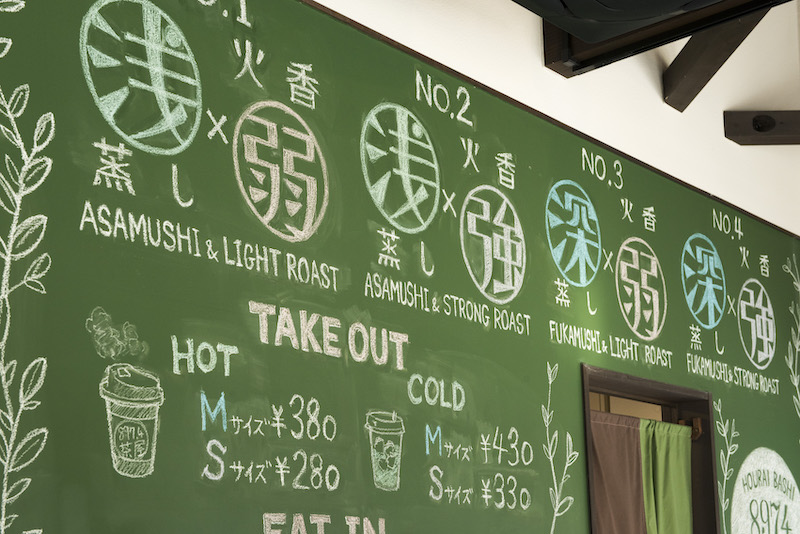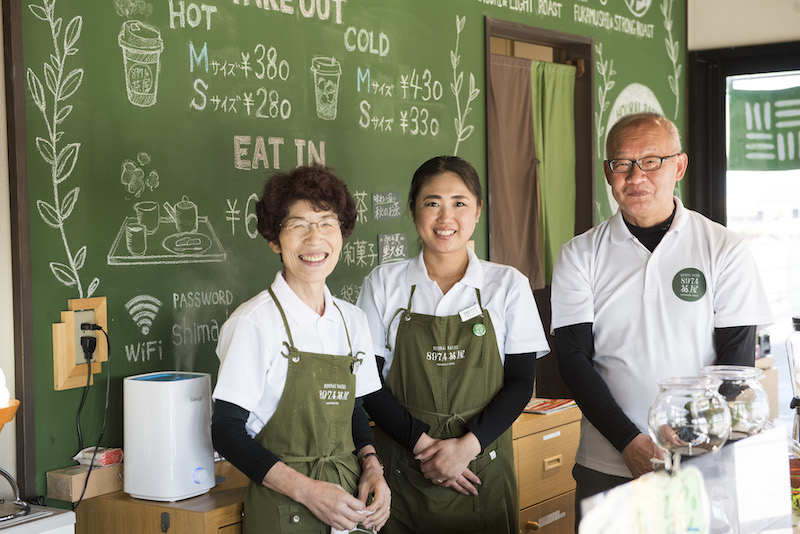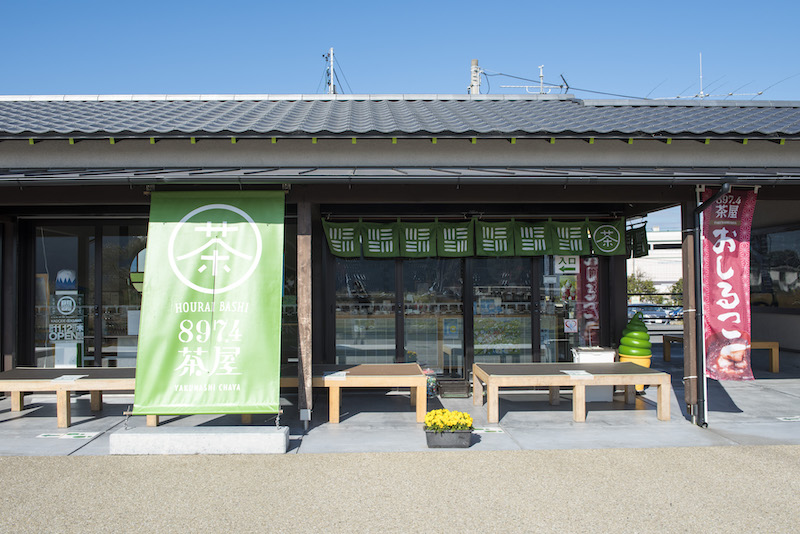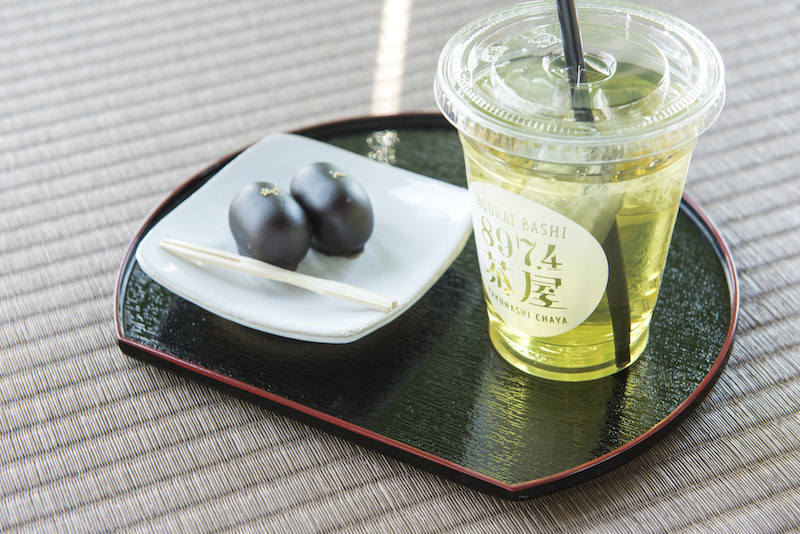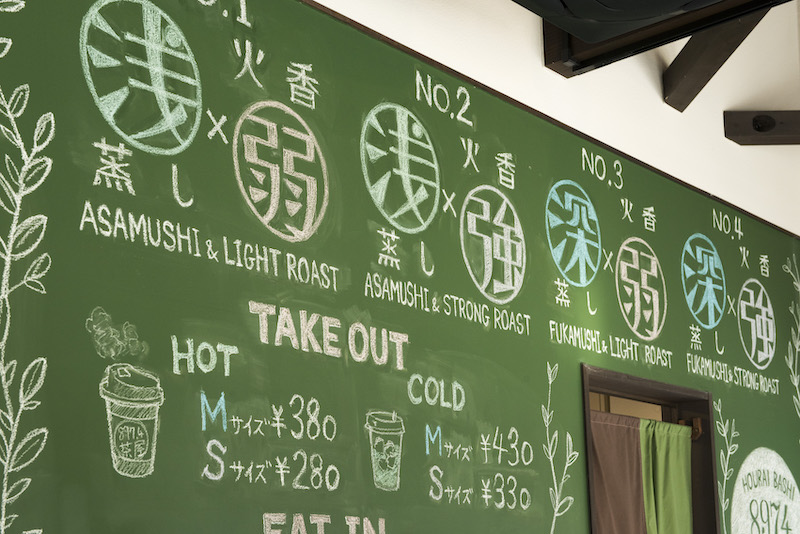 The café sells drinks and food items created in collaboration with the SHIMADA GREEN Ci-TEA JAPAN project. Quality green tea from Shimada can be ordered as takeout and enjoyed while viewing Horai Bridge outside on the terrace. Many are surprised at the complexity of green teas, such as Shimada tea, Kanaya tea, and Kawane tea that change flavor depending on the growing site and brewing style. One way of enjoying green tea is placing tea leaves with ice to extract tea for 40 min. This creates a cold brew that allows the inherent flavor of the tea to come through.
The top recommended food item is the green tea soft-serve ice cream. Over 2,000 servings are sold every month. The type of green tea added to this special treat is changed twice a month. You can also enjoy items only available at this shop, including specialties such as Horai sushi and yakunashi dango (sweet rice dumplings).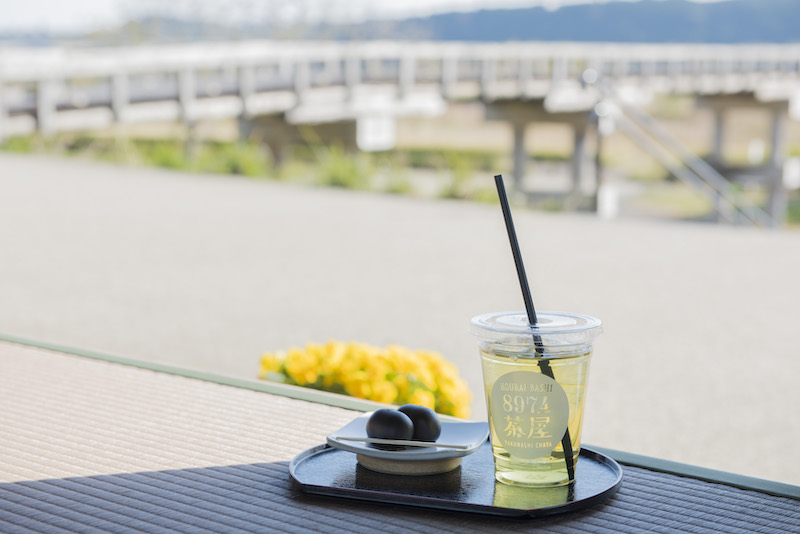 Horaibashi 897.4 (Yakunashi) Chaya
Telephone number

0547-32-9700
Business Hours

Apr.–Oct. 9:00–17:00
Nov.–Mar. 9:00–16:00
*Business hours may be shortened.
Closed

Open year round
A long-standing sake brewery established in 1832
This is the only sake brewery in Shimada. It produces numerous choice sake appreciated by locals and lovers of sake from all over Japan. Because the quality of Japanese sake is impacted by water, this brewery has used the plentiful underground water of the Oi River since its founding. The water is first carefully filtered using bamboo charcoal sourced from untouched bamboo groves in undeveloped woodland in order to remove impurities and give it an even milder taste.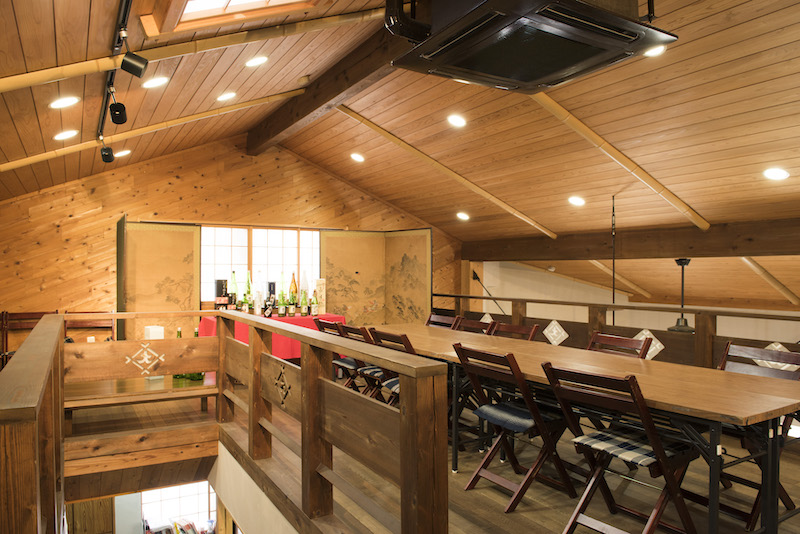 Japanese sake can be enjoyed for flavors that differ depending on the ingredients and manufacturing methods used. This brewery manufactures numerous Japanese sake unique to Shimada, including the signature product that underwent a package update in 2019, the "Wakatake" series, and "Onna Nakase" that is well-known throughout Japan.
"Shimada," a junmai ginjo namazake only sold in Shimada, is distinctive for the aroma of newly brewed sake and a full-bodied, deep flavor. "Nagai Kinohashi" is a junmai ginjo sake based on the motif of Shimada's famous Horai Bridge. It has been matured at low temperature for a rich, mild aroma and strong flavor. The sake is a valued addition to celebrations because of its auspicious name. "Nagai ki" can mean "long wood" or "long life."
The brewery does not sell sake, but will introduce nearby liquor shops to people wanting to buy sake.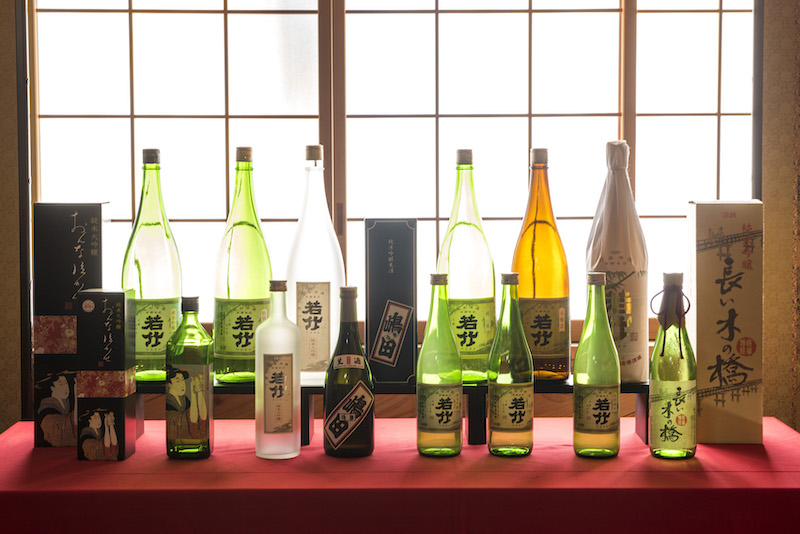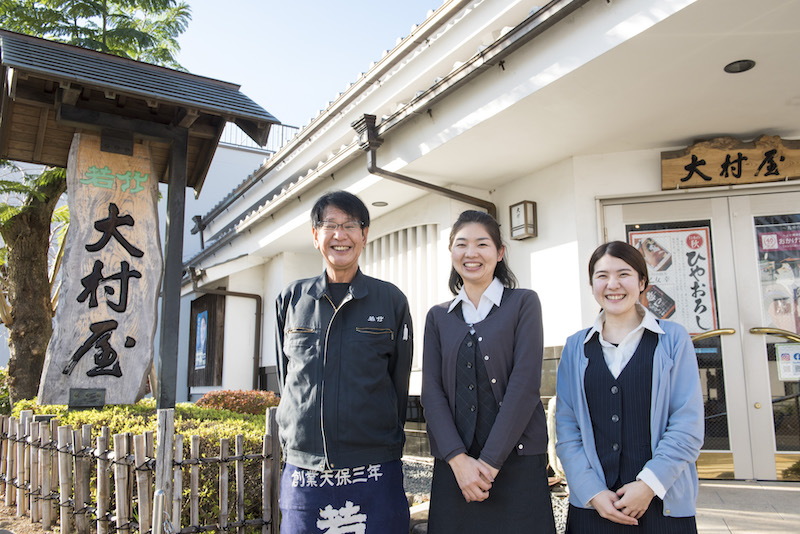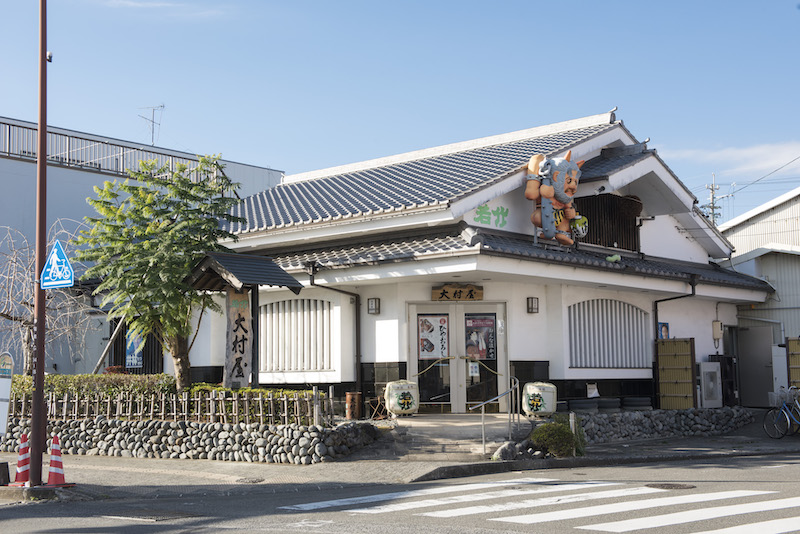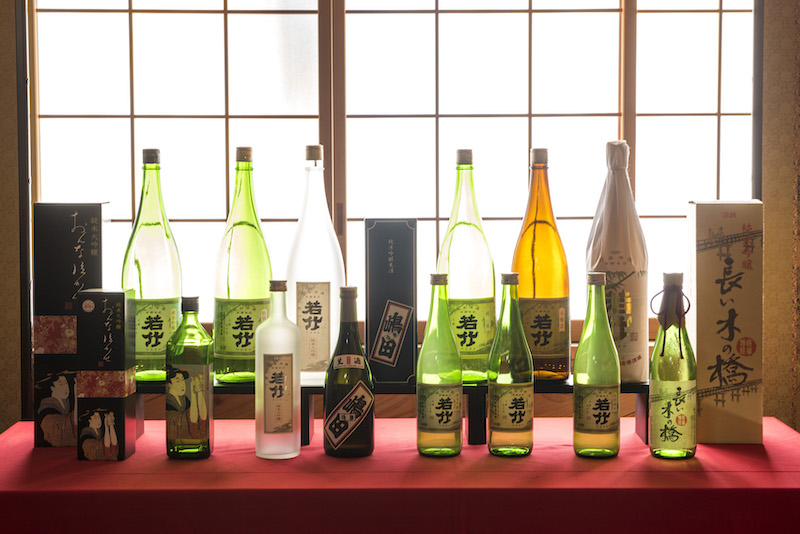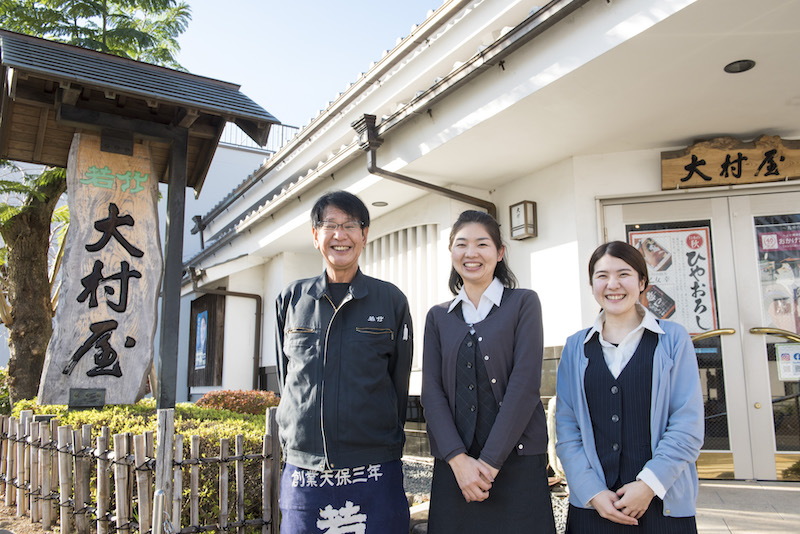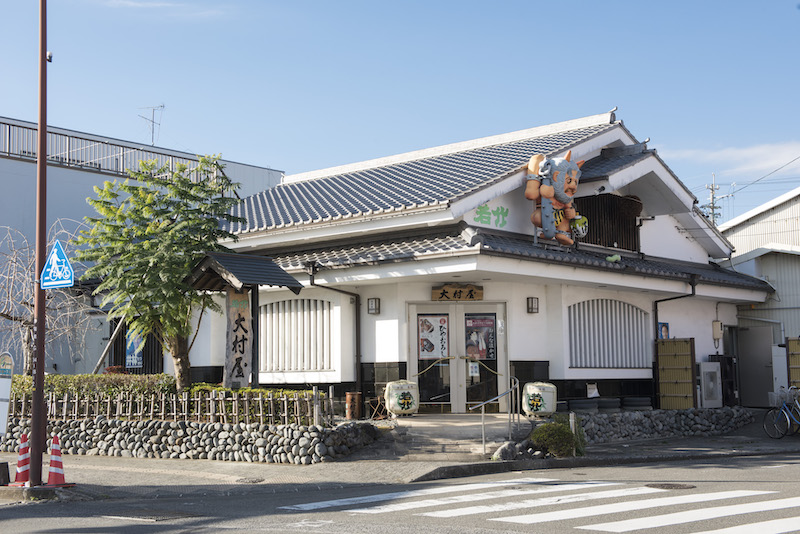 Omuraya Brewery
Telephone number

0547-37-3058
Business Hours

8:00-17:00
Closed

Saturdays, Sundays, national holidays
Parking

3 spaces