The One Hundred Things to Do in Oigawa

Discover the 100 Tourist Attractions of Oigawa River Basin
One Hundred Things to Do in Oigawa is a card-style brochure created by the staff at Tourist Information Oinabi, a tourist information center that provides information on the Oigawa River basin. Get confident recommendations from Oigawa River basin experts across five categories (Experience, Eat, Shop, Stay, and Visit). Each of the 100 tourist attractions of the areas is presented on an individual card. Some of these attractions can't be found through a web search, as they include hidden spots, restaurants, and shops known only to the locals. If you're not sure where to start, try kicking off your adventure by seeking out one of the spots in our card brochure!
Create a customized travel guide that's all your own!
The Oinabi tourist information center is packed with essential information for travelers, making it the perfect the place to start your journey into the Oigawa River basin. It's also adjacent to KADODE OOIGAWA, an experiential food park that opened in fall 2020. It's full of restaurants and markets offering locally-sourced produce and more. Oinabi is handing out cards showcasing each of the One Hundred Things to Do in Oigawa (nicknamed the "100 Things") free of charge. Put together your favorite spots from the hundred cards to create a customized travel guide that's all your own!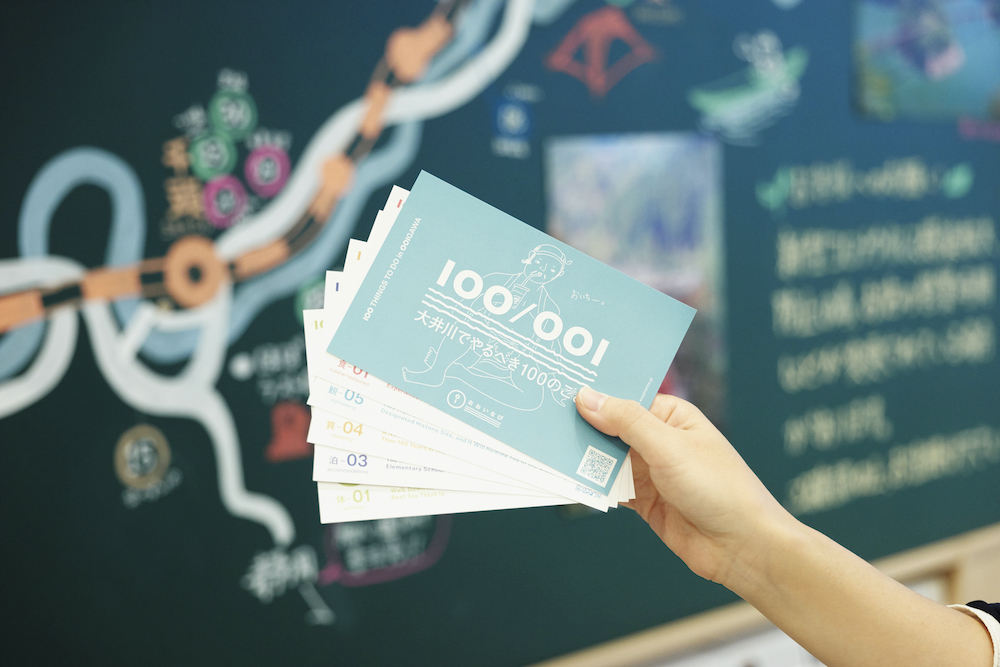 The massive chalkboard drawing is the best part!
There is a huge chalkboard mural installed at Oinabi showing an illustrated map of the Oigawa River basin. It's packed with information on the best things in the central Oigawa River basin, especially the "100 Things". See all of the activities and sights you can enjoy in different areas all on one map! The map is a great way to decide on your itinerary as well as find fun things to do near your selected destinations. Oinabi also provides recommended seasonal routes as well as suggestions perfect for groups of friends, families, couples, and more!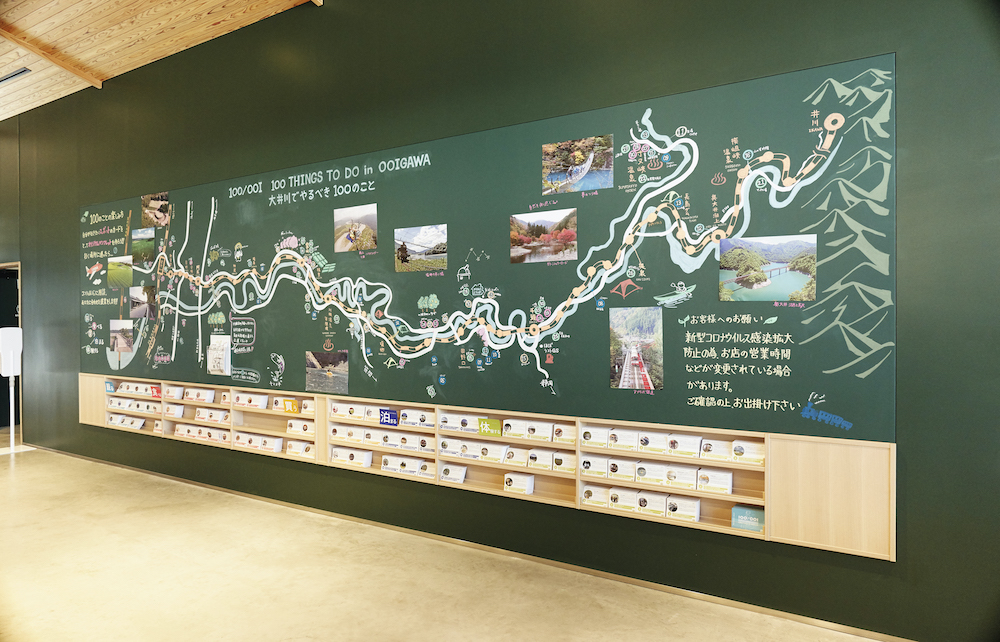 Ask our expert concierge anything!
Oinabi always has an expert Oigawa River basin travel concierge on hand to provide travel information tailored to your interests, goals, and preferred experiences. Of course, you can also get them to help you put together a "100 Things" itinerary. They'll also give you access to out-of-the way local gems and hidden finds that go well beyond standard tourist information fare. Take a chance and reach out to them! Your trip is sure to get more fun and interesting.