Nothing is so classically Japan as scenes of rolling tea plantations and unspoiled natural beauty that changes dramatically with every season, and the Oigawa River basin is the perfect place to experience these wide-open wonders. The Oigawa River basin has been a thriving trade hub since ancient times, and retains ruins that echo with Japanese history along with a rich local culture steeped in the bounty of the river. Kayak or trek along the river, paraglide over the valley, or take part in a variety of other outdoor experiences. Take it easy in one of the direct-fed hot springs, or indulge in fresh local seafood from Suruga Bay... the possibilities are endless. Enjoy! Oigawa is your guide to the best attractions in the Oigawa River basin, while also allowing you to make lodging or activity reservations and purchase local specialty products.







The One Hundred Things to Do in Oigawa
Tourist Information Oinabi is a tourist information center that's adjacent to KADODE OOIGAWA, an experiential food park that also serves as a hub for exchange and interaction in the Oigawa River basin. The facility is directly linked to Kadode Station on the Oigawa Railway. You can also catch a glimpse of the jaunty retro SL railcar that runs nearby. The tourist information center also hands out card-style brochures featuring One Hundred Things to Do in Oigawa. Each card features one of these "100 Things" across five categories (Experience, Eat, Shop, Stay, and Visit) so that travelers always have an ace up their sleeve. Put together your own combination of cards to create a custom travel guide that's all your own! You can also access information on the One Hundred Things to Do in Oigawa on this website. Unsure where to start? You're in just the right place to start your search.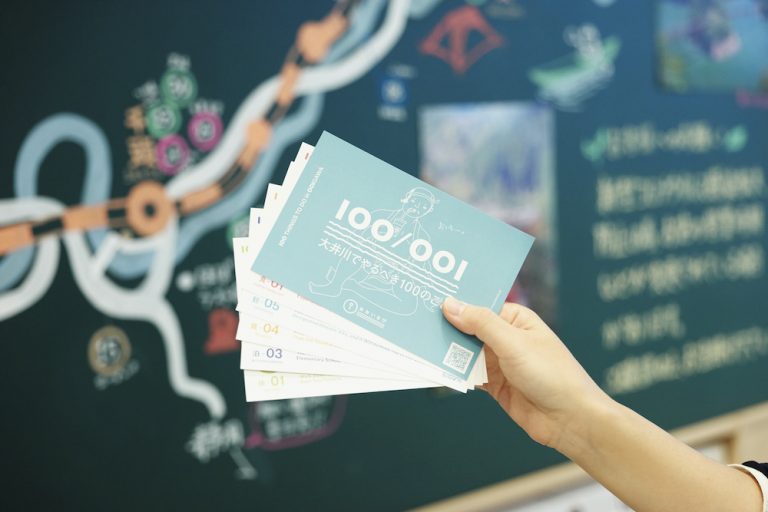 Activities
Fun activities in Oigawa
Experience everything the area has to offer, from a local tea culture nurtured by the Oigawa River to outdoor activities that put you in the heart of spectacular natural beauty. However you like to travel, you're sure to find your magic in Oigawa
Explore the depths of tea that is so established in the lives of the Japanese.
Shizuoka is famous for tea-growing, and the Oigawa River basin has been known as a thriving center of tea production since ancient times. There are many hands-on experiences available to deepen understanding of tea, which is ingrained in the lives of the Japanese. These include harvesting tea and taste testing different flavors produced from different tea leaf varieties and brewing methods. After returning from your trip, you're likely to have a greater appreciation for drinking tea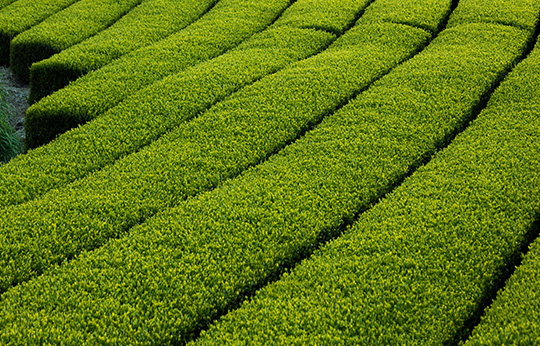 Experience the abundant nature of Oigawa first hand.
We recommend hands-on, outdoor activities such as kayaking, river climbing, and paragliding for travelers who like to be active. You can experience the rich nature of Oigawa from head to toe. Plus, activities including barbecuing and fishing for landlocked masu salmon are sure to become great memories for families traveling with children.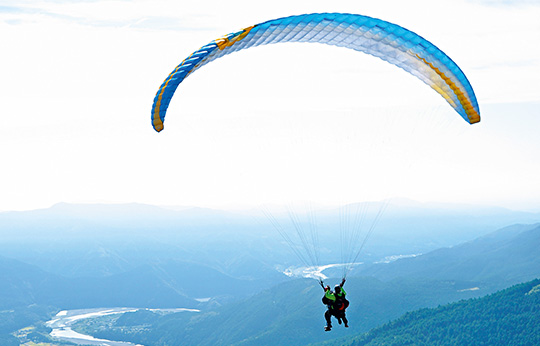 Cuisine
An array gourmet selections prepared with local ingredients
From the abundant catch that comes from the Oigawa River and Suruga Bay to locally-grown vegetables, the river basin is full of delicious food. There are countless ways to enjoy the local flavors, from distinctive traditional Japanese restaurants to cafés serving deliciously healthy fare.
Try pairing the catch of the day with delicious sake
Seafood is plentiful where the Oigawa River empties into Suruga Bay, with fishermen pulling in everything from sakura shrimp and whitebait to tuna and bonito. Yaizu Port is one of the leading ports in Japan, particularly well-known for its rich bonito harvest. Many local restaurants serve the fresh seafood raised in the nutrient-rich waters of Suruga Bay, and visitors have their choice of savoring these delicacies in an elegant traditional Japanese restaurant or in the lively atmosphere of a Japanese pub.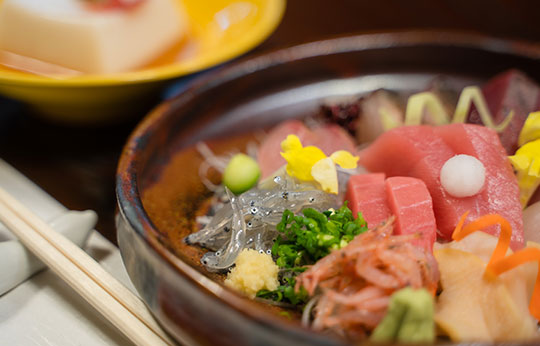 Delight in locally-sourced meats and vegetables
An essential part of any trip to the Oigawa area is trying out the local cuisine and homestyle dishes made with fresh, locally-sourced vegetables. You also don't want to miss Kinton-oh, a specialty pork brand known for its sweet flavor and tender texture. Nameshi dengaku, made from rice steamed with daikon radish leaves and a miso-glazed tofu called dengaku, is a homestyle favorite that lets you experience the unique food culture of the area.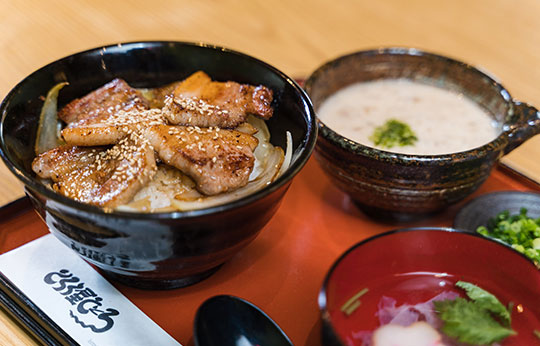 Shopping
Send tea and other Oigawa products home
The Oigawa River basin has been a thriving trade hub since ancient times. It has a strong culture of remaining open to changes and translating them into advances in manufacturing while still maintaining its longstanding traditions. Here, we introduce various local products cultivated by that culture and the nature of Oigawa.

Oigawa specialty products
Local products nurtured by Mother Nature
Tea is the signature specialty product of Oigawa. Numerous products are developed and sold using tea leaves cultivated in the river basin. This includes not only green tea, but also Japanese black tea. Shitoro ware is another local specialty that has thrived here since the latter half of the 15th century. It was particularly prized by tea ceremony experts for use in tea jars, thanks to its superior durability and resistance to moisture. There are still many fans of that subdued elegance, and items such as tea utensils for matcha and green leaf tea are being produced. Furniture and toys are also made from the abundant Japanese cedar and cypress that grow in the Oigawa River basin. These products make great gifts for loved ones.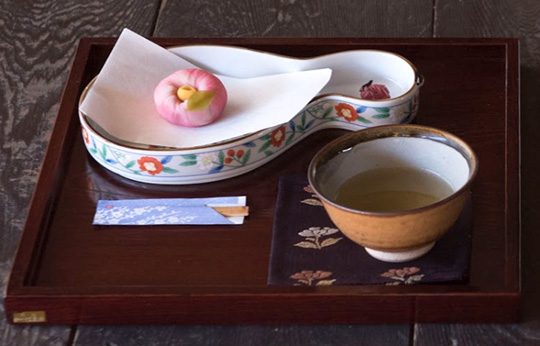 Featured specialty products
Superior Shimada products, the pride of Japan
Superior Shimada products are products certified by Shimada City, a community in the Oi River basin. Once every two years, items that are produced or planned and sold in the city of Shimada are rigorously reviewed. The selected products serve as appropriate symbols of the city's attractions to be conveyed to Japan and the world. Enjoy the many world-class products from Shimada, a city that values keeping traditions alive while accepting diverse cultures and manufacturing items that suit the times.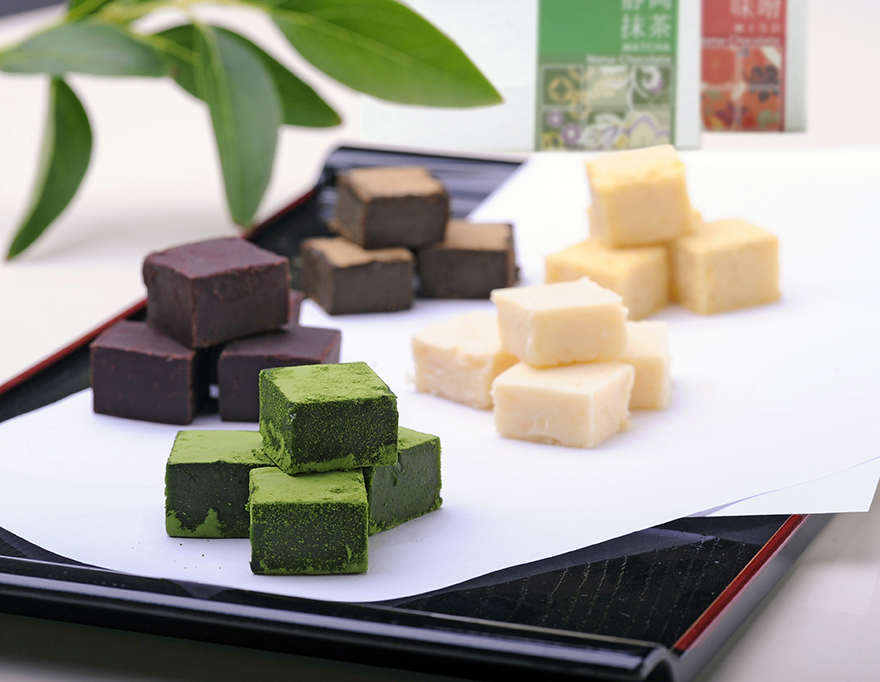 Accommodations
Leave the noise of the city behind for a night of stars and nature
After having lots of fun on the Oi River basin, take a bath in hot springs and eat your fill of local foods while enveloped in the beautiful river and mountain nature. An experience of physical and spiritual healing awaits.
Take a bath while viewing the beautiful river and mountains.
There are several hot springs in the Oigawa River basin, including Kawane Onsen (known for its abundant water flow), Sessokyo Onsen, and Sumatakyo Onsen. You'll never forget soaking in the hot spring baths as you gaze at the beautiful river and mountains while the Oigawa Railway SL train chugs along the Oigawa River. You can indulge by stopping by and taking a day trip to the hot springs, or leisurely enjoy the hot spring waters by spending the night. Treat yourself to some soothing down time.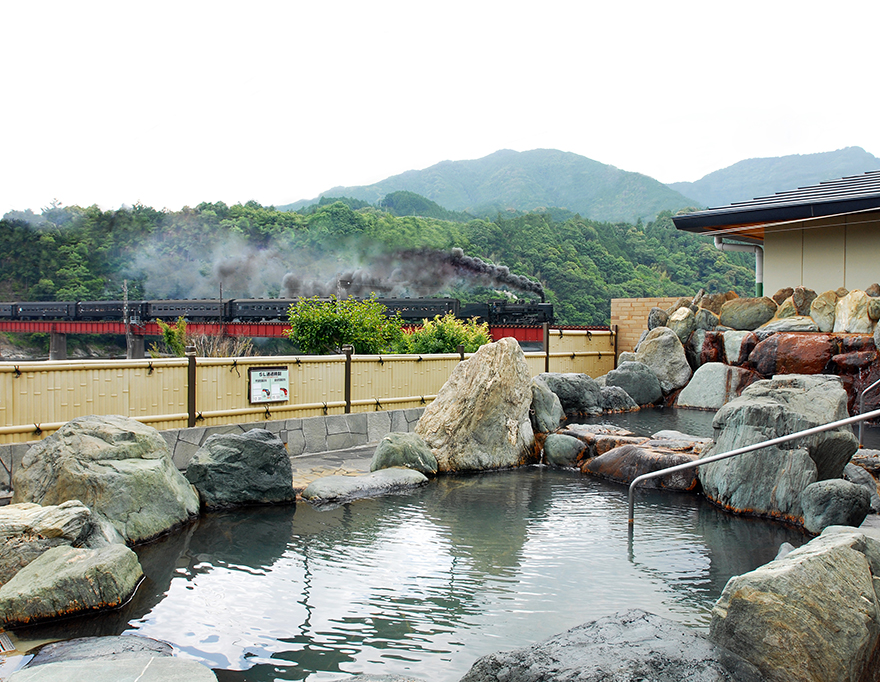 Accommodations include everything from hotels with hot spring facilities to farm-run inns.
Lodging facilities in the various hot springs are waiting to welcome guests. Each has their own special attractions, including guestrooms with river views, cuisine prepared with an abundance of local ingredients, and warm homey hospitality. There are also long-established inns that transport you back to the days of the Old Tokaido Road--including those operated in relocated Edo-period homes. You can also rent out an entire farm-run inn. You will find accommodations that fit perfectly with your travels.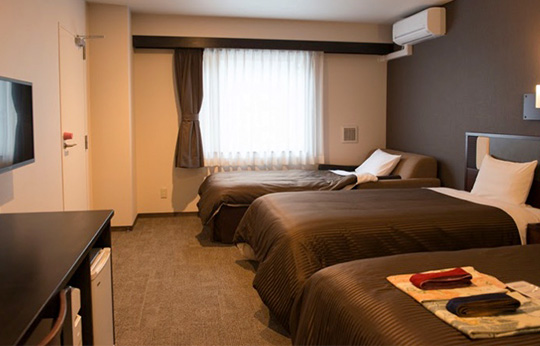 Sightseeing
A trip overflowing with nature, history, and culture
The source of the Oigawa River is located in the Akaishi Mountains, a range that tops 3,000 meters and is sometimes referred to as the Southern Alps of Japan. Ancient people gathered here to take advantage of the blessings of the river, developing a unique local culture in the process. It was also the site of numerous samurai battles in the 16th century. Enrich your trip by soaking in the deeply-rooted culture and history of the area along with its gorgeous natural charms.
Ride the SL through the heart of the Oigawa River valley
The Oigawa River flows at a leisurely pace through its central basin, creating unique, celebrated vistas as it winds along. A ride on the retro-style SL train floods the view with expanses of verdant tea fields, immersing visitors in an exquisite natural beauty that changes throughout seasons, offering fresh spring greenery, vibrant fall colors, and more. Okuoi-Kojo Station, perched atop brilliant cobalt-blue lake waters, is a classic example of Japan's secluded train stations and draws numerous visitors. Enjoy the scene from your train window, or get out and have fun exploring the dam and hanging bridge.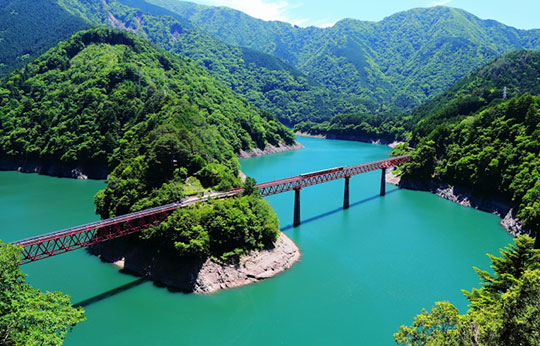 Experience the history and culture of the Oigawa River basin
The Oigawa River basin was home to a thriving merchant culture in the 16th century, making it attractive to samurai who repeatedly battled for control of the area. See the remains of Suwahara Castle constructed by the Takeda clan, one of Japan's most famous ruling families. The ruins are surrounded by the mountainous natural beauty that characterizes the Oigawa region, giving visitors an opportunity to experience Japan's dynamic history firsthand. Those who want to dive deeper into the local culture are encouraged to visit one of the area museums that houses historical documents chronicling its tea ceremony and tea manufacturing past. There are also tea picking, tea hand-rolling, and matcha-milling experiences available that offer visitors a delightful array of sights, tastes, and knowledge.